Imaging Radiolucent Carbon Fiber Skull Clamp
22-08-2022
Imaging Radiolucent Carbon Fiber Skull Clamp
Imaging Radiolucent Carbon Fiber Skull Clamp is used for head fixation and retraction in neurosurgery and spinal surgery microsurgery, and can also be used for CT, DSA, X-ray and fluoroscopy scanning of the head and cervical spine.
The head frame is made of high-quality carbon fiber composite material, with good ray perspective effect.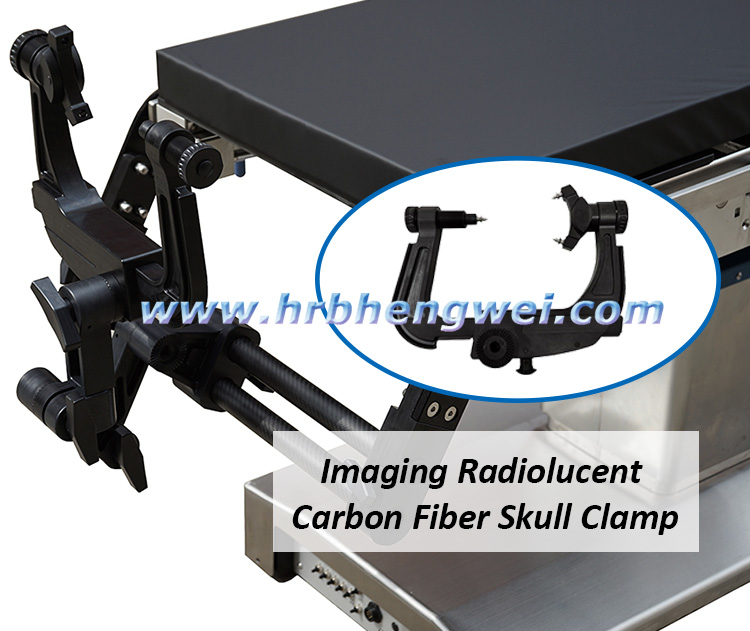 Base:
1. Large size and high-strength carbon fiber composite pipes are used, with double pipe matching and good stability.
2. The fixed connecting base can slide left and right, and is applicable to the operating table with the side rail spacing of 400-630mm, which is convenient for the placement of various positions.
3. Screw type fixed connection base, easy to operate, stable connection and good fastening. The transition parts of the swing arm connecting the operating table on both sides of the base can be made of transparent materials, and the docking assembly scheme can be customized for the full perspective operating table in the composite operating room to flexibly meet the clinical needs.
4. Three top position design. The head clamp has a pressure display of 0-80lbs, and the two-sided 90 ° locking technology is convenient and fast to fix the head nail.
5. One set of titanium alloy head nails for adults and children.